Harman Kardon's Cortana-enabled speaker, the Invoke, makes its way through FCC
0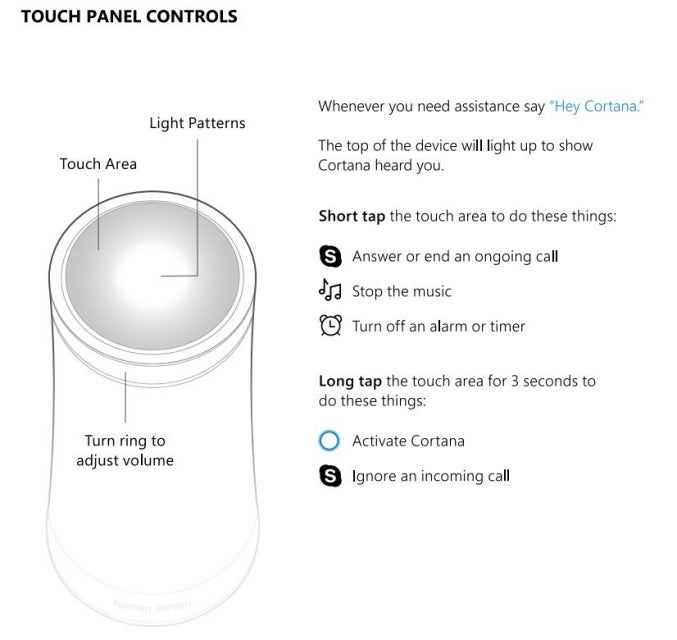 The Invoke, a Cortana-enabled Bluetooth speaker by Harman Kardon, has stopped by the FCC leaving us with some new pictures, details on specs, and the user's manual. Previous leaks have revealed the
setup process for Android
, as well as
what appeared to be Windows 10
, offering us
insight
into what information Cortana will have access to and which apps will have built-in support. The speakers latest stop at the FCC lends us the most details we've seen yet, however.
According to the Invokes user manual, the device supports playback for AAC, MP3, Vorbis, FLAC, WMA, and WAV audio formats. This is in addition to the music streaming apps Spotify, Pandora, iHeartRadio, and TuneIn which we've previously learned will be supported. In terms of hardware, Bluetooth 4.1 and Wi-Fi are also on-board, as well as three 45 mm woofers, and three 13 mm dome tweeters - six speakers in total, providing 360-degree sound. Of course, a microphone is built-in, but there also exists a touch sensitive area atop the speaker which is surrounded by lights. This area will allow you to tap to answer or end Skype calls, pause or play music, or silence an alarm. The lights surrounding it illuminate when the speaker is active in some way, be it by voice, or touch.
The Invoke measures at 9.5 inches tall and weighs in at
2.3
pounds - almost exactly the measurements of the Amazon Echo, but packing three-times as many speakers. The Harman Kardon speaker may potentially have better sound, but of course, Amazon's Echo has the
edge
with Alexa and its 10,0000+ skills for home automation, compared to Cortana's 67. The Invoke will certainly have to launch with more useful and plentiful skills for Cortana if it hopes to compete at all.
As for the Google Home, the Invoke has double the speakers and about 13 more skills currently; most of which are more useful than Cortana's, though, focusing more on home automation as opposed to Cortana's mostly app-related skillset. Of course, you can check their respective websites to see which assistant has the skills most important to you.
Pricing on the Invoke speaker is still unknown, as is the launch date which has been slated for a fall release.
Check out the Invokes FCC photoshoot below!