Hands on with the Moov fitness tracker and coach
7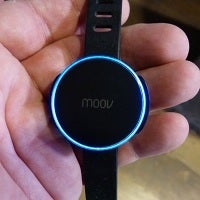 A little over a year ago, a small group of engineers embarked on a mission to create a wearable that was more than a simple tracker and pedometer. They wanted something that was simple, yet incredibly intelligent.
The result was Moov
. The project launched a wildly successful crowdfunding campaign, reaching its goal in less than two hours. Equally impressive, the team delivered a finished product to all its backers within just a few months.
Now available directly or through Amazon, Moov has grown from a single-app coach and tracker to a suite of apps designed to encourage you and teach you during your workout. From running (or walking), to swimming, cycling, or boxing, the Moov "experience" will guide you to reach your goal. The team at Moov will be making an SDK available for developers so they can bring their fitness apps to the next level.
Because of its singleness of focus, Moov delivers advanced metrics (quality over quantity) and goes many steps beyond common fitness related tracking devices. Through accelerometers and magnetometers, Moov monitors 9-axes of motion, meaning it accurately measures how you are really moving.
The real-time coaching is another differentiator along with the ability to connect two Moov devices at once (such as for boxing, one for each wrist). If you work out every day, the battery will last about a week, and the Moov is waterproof.
Moov is currently available on sale for $79 each, or $138 for a pair.
reference:
Moov