Moov isn't just a fitness tracker, it's your personal fitness coach
4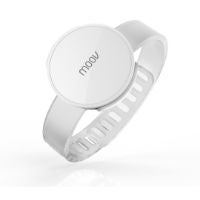 We've been seeing a ton of fitness and health trackers coming through the pipeline recently. Every company wants to get on the wearable train, but most are rehashing the same general idea: track steps, exercise, maybe heart rate, maybe sleep, and that's about it. But, a former Apple engineer has designed the Moov to go beyond just tracking and into being an interactive coach.
The promise of Moov is quite ambitious. It is a modular device that can be worn strapped to your body, or simply attached to something else like a bag, bike, or even a golf club. It is waterproof up to one meter (IP67) as well, so you can use it while swimming, but you won't want to dive into the pool with it. The most impressive feature is that Moov uses 9-axis sensors (accelerometer, gyroscope, and magnetometer) to track your
motion
extremely accurately and even be able to evaluate your form. This means it will tell you when you are running with bad form, or how to have better form while swimming. It even claims to be able to help fix your golf swing.
The idea is to not only quantify your workouts (duration, pace, heart rate, calories burned), but to qualify them as well in order to help you be more efficient and avoid injuries. It will track your body's movements and tell you (using Siri's voice) how to be better (shorter strides when running, etc). The Moov app will gather all of your data, and will even be able to track up to 5 Moovs at once. It suggests two (one on each wrist) for an activity like cardio boxing, but can handle up to 5 if you want even more detailed data.
The Moov is rated for 7 days of battery life at "low-to-medium activity tracking", and 8 hours of high frequency movement tracking. Luckily, the team also realizes that none of that means much, so it has also been given the rating to last about 2 weeks on battery if you use it while working out one hour per day, four days a week. That's pretty solid.
The Moov is planned for a summer release, and at that time it will retail for $120. But, you can preorder one now for $59.95, or two for $99.95. At launch the Moov will only support iOS, but there is an Android app planned for release in the fall.