HTC to introduce a streaming music service with Beats Audio's Jimmy Iovine
0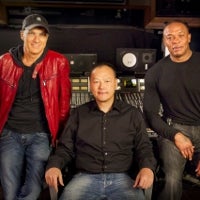 HTC has pretty decent cloud offerings already, and was one of the first Android manufacturers to offer services like backup, remote phone management and finding with the third iteration of HTC back in 2010.
It fully realizes that this is a great competitive advantage and now plans to charge into the cloud music streaming territory, leveraging its $300 million investments in Beats by Dr Dre.
Reports are that Jimmy Iovine himself, who, together with Dre is the founder of Beats Audio, is helping HTC create a unique proposition that will be the default music service on its smartphones and tablets. As per Mr Iovine's interview for the LA Times last year:
Getting Beats audio into HTC phones is one of the first things we're going to do…We are going to be in business with HTC and they're going to help us and were going to help them in every way they can. And you'll see Beats audio in just about every phone or tablet they want it to be in, but they know what we've built and respect the brand and will help us continue to innovate and push Beats further.
PhoneArena:
Does what you've done with the Sensation XE and XL represent the extent to which you plan to use this partnership, or there are other Beats-powered features in store for future devices that users should be looking forward to?
HTC:
As far as the future is concerned you'll have to watch this space. I don't want to spoil what we have in store, but rest assured that superb audio experience will remain front and centre for us.
The involvement of Jimmy Iovine is crucial for the success of the new service, as he is one of the most respected figures in the music business, and can help sign up the important labels. HTC is also said to be working on a boombox accessory that can play music streaming from HTC phones over Bluetooth, like the
swanky Nokia Play 360
.