HTC pres says 4.3 should come to One and DNA before the end of September
19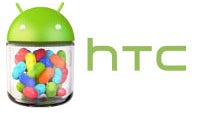 Over the weekend, president of global sales at HTC Jason Mackenzie responded to a question on Twitter saying that HTC was working to skip over the Android 4.2.2 update for the HTC One, and
jump straight to Android 4.3
. That's always good news, but at the time, we had no idea when to expect said updates. Well, Mr. Mackenzie has taken to Twitter once again to give us the answer.
Apparently, quite a lot of people have been asking Mr. Mackenzie about the updates after he said the One would be going straight to 4.3. And, lucky for us, it looks like he has gotten the okay to actually tell us what's happening. According to Mackenzie, HTC is working hard on the Android 4.3 updates, which need certification right now. The plan is to be able to release the update to "all US, Canada SKUs" by the end of September.
Best of all, this isn't just for the HTC One, but this news also covers the HTC DROID DNA. So, it looks like HTC One owners should be getting the 4.3 update in just over one month. DROID DNA owners, well... we'll believe it when we see it, given Verizon's history of
delaying
testing software updates.