HTC One will skip 4.2.2 and go straight to 4.3 says president
61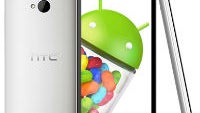 The Android 4.2.2 Jelly Bean update was pushed out to the
international versions of the HTC One
over one month ago; and, of course the HTC One Google Edition has already been updated to Android 4.3 Jelly Bean. But, the U.S. carrier versions of the HTC One are still running Android 4.1, and it has been a while since we've heard anything about when users should expect the update.
Well, good news, everyone! HTC's president, Jason Mackenzie gave some potentially great info to users with a tweet recently. According to Mackenzie, Android 4.2.2 is a "minor update", so HTC has decided to skip it and update the HTC One directly to Android 4.3. This may only be for the HTC One Dev edition, which is what the question was about, but since the dev edition is just an unlocked HTC One, it seems likely the plan will be the same for all One devices in the U.S. Mackenzie gave out the info because a user was frustrated that the Verizon HTC One was said to
launch with Android 4.2.2
, but the update hadn't yet come to other HTC One models. Mackenzie said that the decision was made "because 4.3 is so close. And 2.2 offered limited customer benefit."
Unfortunately, Mackenzie ignored questions on when we should expect to see the update pushed out to users, so we'll have to just keep being patient until we get more info.