HTC Windows Phone 8X vs Nokia Lumia 920: which one do you prefer?
66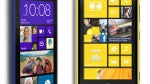 HTC has
just introduced
its first Windows Phone 8 devices, and do you know how they are called? They are called
HTC Windows Phone 8X
, and
HTC Windows Phone 8S
! Can we just pretend that we never saw that? Thanks! But anyways, aside from their absurd names, the new smartphones do look pretty good, and we even think that they will be some decent competition to Nokia's Lumias.
However, even though HTC has called the phones the "signature" Windows Phone 8 devices, we're not entirely convinced that HTC will be able to win a battle against Microsoft's one and only Nokia. But who says they can't try?
Let's see which one do you guys prefer - the Windows Phone 8X or the
Lumia 920
? Will HTC be able to overtake the leading position in the WP race, or will Nokia be able to make a stand and continue moving those Lumias? Cast your votes in the following poll!