HTC Wildfire S gets even more cute looking with its new pink paint job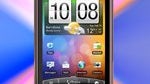 As if the
HTC Wildfire S
couldn't get any more cute looking, it actually managed to do it recently! Being a compact and modest Android powered smartphone, the HTC Wildfire S might be deemed as one of the cuter looking devices from HTC's camp mostly due to its size.
Well, adding yet more cuteness to the handset is the recent addition of a new paint job – and no, it's not going to be some shade of grey or black. Instead, the HTC Wildfire S is now blessed with the daring, yet striking color of
pink
. However, it's worth noting that it's only currently available in the
UK
right now – with no word if other markets will be graced with its presence.
Currently, the handset can be picked up for the 2-year contract price of free if you happen to be on a plan that starts at £15 per month. Polarizing to say the least, this handset dressed in pink will no doubt turn some heads, but it'll still pack all the functionality and features of the original.
source:
Phones4U
via
Unwired View