HTC One mini vs Galaxy S4 mini, HTC One and more: size comparison
37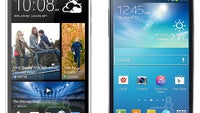 When you think about it, the HTC One mini is a very exciting smartphone, as it manages to both offer compact dimensions and retain the premium status of its bigger variant. Not many other handsets have managed to do that, not even the recently launched Galaxy S4 mini, which looks like a decidedly mid-range product.
So, the One mini will soon be able to make users happy by giving them the option to have a high-quality smartphone that isn't a gargantuan slab, but exactly how much smaller is it going to be compared to the original One? Also, it'd be quite interesting to see it lined up next to comparable handsets like the Galaxy S4 mini and why not event the iPhone 5? Well, let's take a look then!
As you can see, the HTC One mini is significantly longer than its rival, the Galaxy S4 mini, but then again, it's also much more stylish than what Samsung has to offer. Meanwhile, the iPhone 5 is even smaller than the GS4 mini, but what's important here is that the One mini is considerably smaller than the One, so it certainly makes for HTC to launch this new product. Finally, a reasonably-sized smartphone with and HD screen and solid internals!
Here's the One mini compared to some other smartphones of similar size: