HTC One M9 - check out the attractive official cases and earphones!
3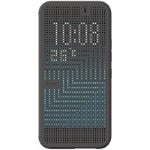 With the HTC One M9 out and about in markets on both sides of the planet, it's time to take a look at some of the official accessories that will be sold alongside the smartphone. To accompany your purchase, HTC brought out some old favorites, updated others, and even made some new ones.
So, there you go - have a nice long look at them! It's a great start for a nice and beautiful, if a little flawed smartphone. Welcome to the family, M9!