HTC One M8 owners not in a hurry to upgrade to the M9, it seems
49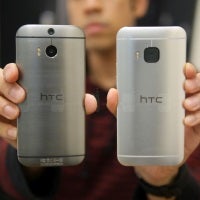 According to data from British trade-in website CompareMyMobile, HTC One M8 owners weren't eager to upgrade to the One M9 following its introduction at MWC. Unlike Samsung Galaxy S5 owners who exhibited an overwhelmingly enthusiastic response towards its successor and
rushed to trade-in before the Galaxy S6 was even available
, One M8 owners met the M9 with a lukewarm 60% spike in valuations (people checking prices for their old phone on the site) and a discouraging -35.02% spike in trade-ins (people actually trading in their smartphones).
By CMM's words, this shows HTC owners are more hesitant to trade in their older flagships for the One M9. However, owners of the HTC One Mini (178%) and HTC One X (250% trade-in spike) are showing heavy interest in the M9. Hopefully, HTC didn't really expect One M8 owners to upgrade immediately, or the company will have to face a disappointment.
Although HTC is enjoying considerable brand loyalty, with almost half of HTC M8 upgraders on the website trading in an older HTC device last year, apparently they didn't see the One M9 as more compelling. But time will tell whether HTC's strategy of building an iconic look will pay off with larger sales.
source:
CompareMyMobile