HTC One (M8) for Windows vs Lumia 930, Galaxy S5, iPhone 5s and more: size comparison
5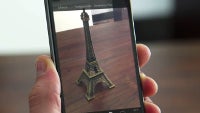 The HTC One (M8) for Windows brings the praised aluminum unibody of the Android version of the handset to Microsoft's platform, and along come the Ultrapixel shooter with Duo Camera, but how does the new phone compare against the competitors over at the Windows Phone side of things?
We look at the dimensions: size and thickness of the phone, and compare it against some popular devices on Windows Phone - gadgets like the Nokia Lumia 1020, Lumia 930, Lumia 1520, and so on.
The aluminum-clad M8 stands out among them with its fairly large dimensions for a 5-inch phone, but also with the quality of the build and the elegant finish. For a full comparison of the size difference between this new Windows Phone flagship and the rest, take a look right below.
HTC One (M8) size compared against other Windows Phone handsets
HTC One (M8) size compared against popular flagships