HTC One A9 vs Apple iPhone 6s vs Samsung Galaxy S6: specs comparison
21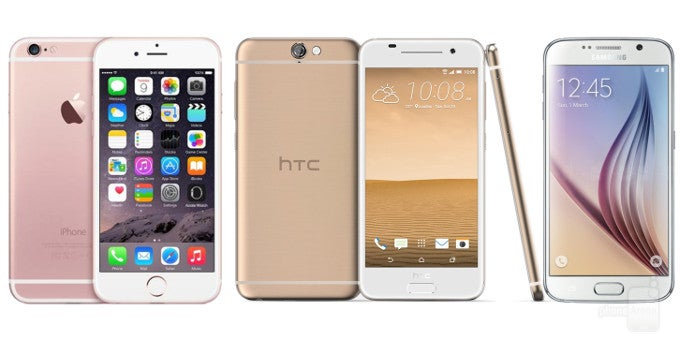 The HTC One A9 is the latest device to join the ranks of HTC's 2015 portfolio. The phone is certainly imbued with the hopes to help turn things around for the company, which is not in its greatest shape.
HTC says that the One A9 is offering an incredible design, fantastic performance, cutting-edge software features and the freedom to take full control of your smartphone experience. But will this mid-range offering rekindle interest in the company, or not? This question will be answered in the following months.
Until then, we have more than enough time to nitpick at the One A9 and compare it against the rivals it has to face. Two of these are the Apple iPhone 6s and the Samsung Galaxy S6 - champions that need no introduction. Here's how the trio fares specs-wise.
Super AMOLED
IPS LCD
AMOLED
Scratch-resistant glass, Ambient light sensor, Proximity sensor
Pressure-sensitive, Oleophobic coating, Scratch-resistant glass, Ambient light sensor, Proximity sensor
Scratch-resistant glass, Ambient light sensor, Proximity sensor
Samsung Exynos 7 Octa 7420 (14 nm)
Apple A9 APL0898
Qualcomm Snapdragon 617 8952
Octa-core, 2100 MHz, ARM Cortex-A57 and ARM Cortex-A53, 64-bit
Dual-core, 1840 MHz, Twister, 64-bit
Octa-core, 1500 MHz, ARM Cortex-A53, 64-bit
Mali-T760 MP8
PowerVR GT7600
Adreno 405
128GB, not expandable
128GB, not expandable
32GB
Android (7.0 Nougat, 6.0 Marshmallow, 5.1 Lollipop, 5.0 Lollipop), Samsung TouchWiz UI
iOS (15.x, 14.x, 13.x, 12.x, 11.x, 10.x, 9.x)
Android (7.0 Nougat, 6.0 Marshmallow), HTC Sense UI
Fast charging
Qualcomm Quick Charge 3.0
10.0 days (240 hours)
the

average

is 29 days (688 h)
23.00 hours
the

average

is 0 h (0 min)
14.00 hours
the

average

is 0 h (0 min)
16.00 hours
the

average

is 0 h (0 min)
18.0 days (432 hours)
the

average

is 0 days (0 h)
3G: 10 hours; LTE: 12 hours; Wi-Fi: 12 hours
3G: 10 hours; LTE: 10 hours; Wi-Fi: 11 hours
57.00 hours
50.00 hours
60.00 hours
13.00 hours
11.00 hours
12.00 hours
Single camera
Single camera
Single camera
16 MP (OIS, Autofocus, BSI sensor)
12 MP (Sapphire crystal lens cover, PDAF, BSI sensor)
13 MP (Sapphire crystal lens cover, OIS, Autofocus, BSI sensor)
Aperture size: F1.9; Focal length: 28 mm; Sensor size: 1/2.6"; Pixel size: 1.12 μm
Aperture size: F2.2; Focal length: 29 mm; Sensor size: 1/3"; Pixel size: 1.22 μm
Aperture size: F2.0
3840x2160 (4K UHD) (30 fps), 1920x1080 (Full HD) (60 fps), 1280x720 (HD) (120 fps)
3840x2160 (4K UHD) (30 fps), 1920x1080 (Full HD) (120 fps), 1280x720 (HD) (240 fps)
1920x1080 (Full HD) (30 fps)
OIS, HDR, Continuous autofocus, Picture-taking during video recording, Video light, Video calling
Time-lapse video, Continuous autofocus, EIS, Video calling, Video sharing
Hyperlapse, Video calling, Video sharing
5 MP
5 MP
4 MP
2560x1440 (QHD) (30 fps)
1920x1080 (Full HD)
5.65 x 2.78 x 0.27 inches (143.4 x 70.5 x 6.8 mm)
5.44 x 2.64 x 0.28 inches (138.3 x 67.1 x 7.1 mm)
5.74 x 2.79 x 0.29 inches (145.75 x 70.8 x 7.26 mm)
4.87 oz (138.0 g)
the

average

is 6 oz (171 g)
5.04 oz (143.0 g)
the

average

is 6 oz (171 g)
5.04 oz (143.0 g)
the

average

is 6 oz (171 g)
Back: Glass; Frame: Aluminum
Back: Aluminum
Back: Metal
Fingerprint (touch)
Fingerprint (touch)
Fingerprint (touch)
Notification light, Touch sensitive control keys