HTC One A9 gets its monthly security update on time, as promised
7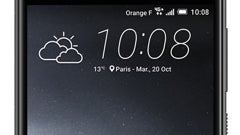 When the
HTC One (M8
)
was launched, the company promised that it would be updated to Android 5.0
no later than 90 days after Google announced the update
. And to make things perfectly clear, this included the carrier versions of the phone, too. But
the company failed to live up to the promise
. So when HTC said that the unlocked version of the
HTC One A9
would receive Google updates no later than 15 days after they were received by Nexus devices, eyes rolled and people thought "here we go again."
To be sure, HTC did lower the bar a little by limiting this promise to unlocked models. Then again, should HTC be responsible for carriers that have OCD when it comes to testing updates? As it turns out, the 15-day promise not only includes new Android builds, but other updates as well. Last night, unlocked versions of the HTC One A9 started to receive the monthly security update issued by Google.
There is one change. When it comes to the security patches, HTC promises to start pushing them out to the One A9 within 15
business days
instead of 15 regular days. Still, it is faster than most.
If you have the unlocked version of the HTC One A9, be on the lookout for the update, which should be coming your way very soon.
source:
AndroidCentral