HTC HD7 experiencing the iPhone death-grip issue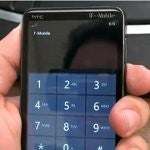 Windows Phone 7 was released only a few weeks ago and it has already experienced quite a few manufacturing related issues. The latest setback seems to be very similar to the "Antennagate" problem that has plagued the iPhone 4, i.e. when you hold the phone in a certain way (the so-called death-grip), you quickly lose reception.
As you can see from the video below, the
HTC HD 7
does have a reception problem when you use the death-grip hold. This means it's likely that you may experience dropped calls (ask the iPhone 4 customers - it's not much fun) and other reception-related problems (like accessing the internet). The reason manufacturers place the antenna at the bottom side of some phones is the fact that it keeps the radiation as far away from your head as possible. Check the video below to see the HTC HD7 death-grip issue for yourself.
source:
YouTube
via
WP Central