Purchase cloud storage from Google One and get a free smart speaker
1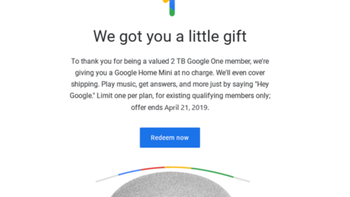 The Google Home Mini is at the low-end of Google's smart speaker range. Normally $49, when the device goes on sale, you can usually find it priced at $25. And Google has also given them away with the purchase of some of its products.
Spotted by Android Police
, Google is now giving away the Home Mini to
those signing up for 2TB or more of cloud storage
with Google One.
To qualify for the free Google Home Mini, you have to subscribe to a plan that will cost you $9.99 a month or more. The latter is for 2TB of storage each month. You can also pay $99.99 a month for 10TB of storage, $199.99 a month for 20TB and $299.99 a month for 30TB of storage. Google One saves all your photographs in their original quality, so they are not compressed when stored. Up to five family members get to share your Google One plan, and whatever you store in the cloud is protected by Google's own security system.
Google One subscribers who qualify are receiving an email that tells them all about their free Home Mini. One unit is being offered per plan, and those who have received the offer have until April 21 to accept it.
Powered by the Google Assistant, the Google Home Mini will stream music, give you the latest sports scores, stock prices and weather forecasts. You can also order a pizza, control smart appliances in your home and much, much more.