Google's stellar Files Go manager updated with background audio and a video player
3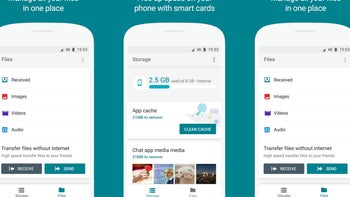 Google's experimental
Files Go
manager for Android can now be had by anyone from the Play Store, and just got updated with a ton of new and useful features that could make it the go-to app for storage management. Files Go is a mix between a file manager app and a file sharing app, allowing you to control all that's on your phone, but also send files easily to others who have the app installed.
It helps you find your important photos, videos, and documents faster by smart on-the-fly categorization. You can also get rid of system, spam, and duplicate files and images. Files Go also lists app you haven't used in a while to help you get rid of homescreen, app drawer, and system storage clutter. The icing on the cake is the ability to share files offline - quickly and securely with other people who have it downloaded. Here are some of the new features, according to a product manager at Google:
Advanced browse: lets you dig into the folders on your phone
Secure app installs: checks any app you receive to see if it's Play approved (for easy installation & auto-updates)
Faster sharing: connections now take less than 5 seconds (on avg.) and we've seen transfer speeds over 500 Mbps
Media player: built-in media playback for audio and video, including background audio playback
The built-in media player and background audio, in addition to all the bells and whistles a good storage manager and sharing service can offer, now make Files Go a versatile and near-universal tool for all your phone storage content. Get it from the link below, if the new features have piqued your interest.