Google might be beta testing an AirDrop competitor in its Files Go app
14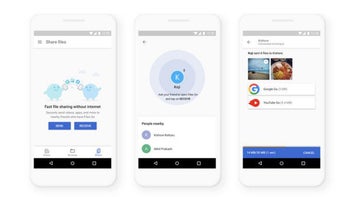 Fast local offline sharing of files has always been a spot of trouble for Android users. Sure, there's
Android Beam
, but that idea never really caught on -- possibly because the feature was introduced well before NFC was commonly found on smartphones -- and Google has been in need of a better option, if only to capture some of the mind-share held by iOS
AirDrop
. Now, there's a new feature in Google's Files Go app that could be that better option.
Files Go is part of Google's "Go" lineup of apps that are stripped down, low-memory versions of apps for emerging markets where data plans aren't as fast or as generous as we have in the States. Files Go helps users free up space on their devices, back up files to the cloud and it had an option for offline sharing of files that has gotten a lot better in the latest update. With the new version of Files Go, users will now be able to use 5GHz WiFi in order to share files locally, which would mean transfer speeds of close to 500 Mbps.
This is the same protocol used and speed of AirDrop, and also matches Samsung's S Beam. We searched for info on how fast Android Beam transferred data, but it seems that Google has ignored it so long that the internet doesn't have answers anymore. Given how little users know about Android Beam, Google is certainly in need of a rebranding or something that can be baked into the system to help with local file transfers. If that is something in the works, then we wouldn't be surprised to find out this Files Go feature was something of a beta test.