Google sends out emails to announce that it is refunding shipping costs for the Nexus 7 Sleeve
4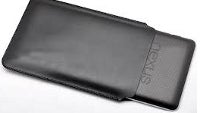 On Tuesday, we pointed out the ridiculously high shipping price that Google was charging for the official
Nexus 7 Sleeve.
This is a protective case that you slide your
Google Nexus 7 (2013)
tablet into and then zipper it up. The only official accessory for the slate available from the Google Play Store, the Nexus 7 Sleeve is priced at $29.99. But once you throw in the cheapest shipping option of $17.98 for shipment via ground, and any applicable state sales tax, you're looking at a price as high as $50 for the accessory.
On Wednesday, in response to complaints about the price Google was charging for shipping the sleeve, the tech titan started sending out emails to those who had ordered the Nexus 7 Sleeve,
refunding shipping and the sales tax
in some cases. For those who have yet to order the accessory, Google is cutting the price of shipping and has added a third option. You can now request two-day shipping for $11.99, Ground shipping (3 to 5 days) for $7.99 or the Saver which offers delivery in 5 to 10 days for $3.99.
Kudos to Google for lowering the shipping costs and arranging the refunds. Who ever heard of a shipping fee amounting to 60% of the price of the product being shipped. Having said that, who at Google thought that such a high shipping fee was okay to begin with? The good news is that those who purchased the sleeve early will be essentially receiving free shipping thanks to the refund.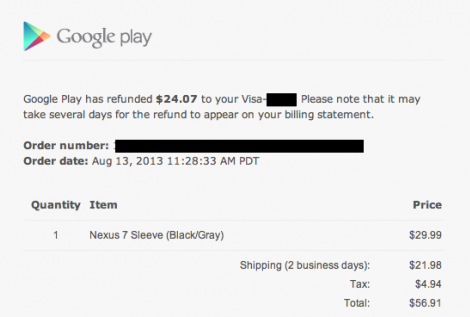 Google is refunding the shipping costs and sales tax for those who purchased the Nexus 7 Sleeve and paid a ridiculously high shipping fee
source:
AndroidCentral