Google Smart TV Kit is the next Home Mini and Chromecast bundle
1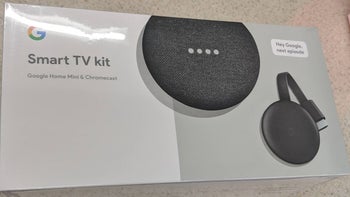 Through retailer Walmart, Google has been offering a Chromecast and
Home Mini
bundle for quite some time now at a price of $74. However, at next week's hardware event, the internet giant looks set to unveil an updated version.
Now, it's worth noting that the overall idea of the bundle remains exactly the same as the current one – it will simply bundle together a Charcoal-colored Google Home Mini and a Chromecast. However, a couple of changes have been made. For one, the original name of "Home Mini & Chromecast" has been replaced with new "Smart TV Kit" branding, possibly in the hope of giving consumers a clearer idea of what the bundle offers. In addition to this, Google has swapped out the second-generation Chromecast for the third-generation one that leaked out a few days ago when Best Buy
accidentally sold
the product to one of its customers.
As mentioned above, the current bundle is sold exclusively through Walmart. But considering Google is expected to announce the rebranded version at its hardware event
next Tuesday
, the company could soon make it more widely available to consumers. In any case, the same price of $74 is to be expected.