Google Search picks up a Star Wars Easter egg
11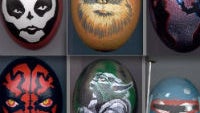 Star Wars fever is in full swing today. The first reviews of Episode VII are coming out, Google released a new Chrome experiment last night so you can kill Storm Troopers with your phone, and now we just learned that there is a fun Easter egg in Google Search specifically for Star Wars fans. The Easter egg was first discovered a few weeks ago, but it's new to us and the timing seems right to show you how it works.
All you really have to do is go to the Google Search bar and do a search for "A long time ago in a galaxy far far away." Assuming everything goes right, your search results UI will change. You'll see a black sky full of stars and then the iconic Star Wars text crawl will begin, except this time around the text will be made up of the search results for the phrase "A long time ago in a galaxy far far away."
We say, "assuming everything goes right" because for some reason the Easter egg worked perfectly on a Nexus 6P, but did not work on a Nexus 9. We're guessing that means this might be available only on phones, but we haven't tested enough devices to confirm that. Still, it's a fun little trick. Let us know in the comments if you find other devices where it doesn't work.