Google Play to take on iTunes adding magazines, newspapers and TV series for a full content ecosystem
9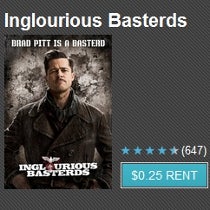 Did you have the chance to play around with the new
Google Play one-stop shop
for Android apps, movies, books and music? Rented "Inglourious Basterds" for $0.25 this week?
We certainly did, but something is missing. No, not just the latest House M.D., but newspapers and magazines too, favorite pastime for young and old when in the bathroom.
We kid, but according to the unofficial Google Operating System blog, the gang from Mountain View is gearing up to offer the full suite of entertainment content on Google Play, adding
magazines, audiobooks, newspapers and TV series
to the mix very soon.
As if to prove this suspicion, Google has recently registered a variety of domain names like googleplaymovies.com, googleplaynewspapers.com, googleplaymagazines.com, and googleplaytv.com.
We'd love to see a full-blown entertainment content war between Apple, Google, Amazon and Microsoft, because if this giants start undercutting each other's pricing, sub-dollar movie rentals might become the norm. We doubt it will go that far, though, but we'll surely enjoy streaming "Fight Club" to our HDTV for $0.25 tonight. Hmm... what's with Google discounting Brad Pitt this week?