Google Photos gets new option to export Motion Pictures as GIFs, but only on Pixel 2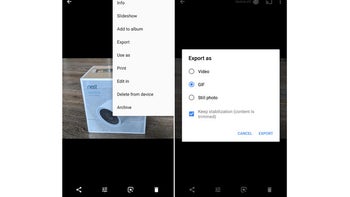 Google Photos
often gets updated, but we are rarely blessed with a changelog confirming some of the features and improvements the developers add. Most of the time, users don't even realize that a new feature is there until they specifically look for it since many updates are server-side.
The latest new feature that seems to have gone unnoticed for a while is the option to export animated pictures to GIFs. For those unaware,
Pixel
phones save big JPG files that contain both the still picture and the animated version, so the new feature allows users to export just the animated part and share it.
The new option can be found under the 3-dot menu when viewing a picture, so make sure you tap it and choose Export. Then, you will be able to choose between still, video and GIF options from the menu.
Unfortunately, the new feature seems to only be available for
Pixel 2
users, and not even all of them have been given access to the option to export
motion
pictures as GIFs. Google is probably gradually rolling out the new feature, so you'll have to be patient if you don't own a
Pixel 2
phone.