Google Pay support now available for 29 new banks in the U.S.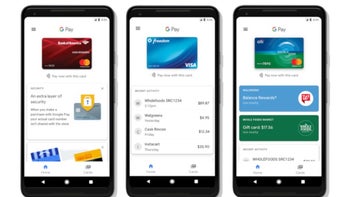 Google Pay
continues to expand
to more banks and credit unions in the United States, the only place in the world where you have a high chance of being able to use the mobile payment service.
Less than two weeks ago
Google quietly added T-Mobile's
brand new digital banking service
to the list of financial institutions that support Google Pay. Now, there's a list of 29 new banks that will soon offer Google Pay support, and you can find them all listed below.
Arundel Federal Savings Bank, Building Trades Credit Union, Community Bank of the Bay, Community First Credit Union (OH), Evans Bank, Federated Bank, First Bank of Boaz, First Central Credit Union, First National Bank of Milaca, Grand Savings Bank, Greater Cleveland Community Credit Union, Greenleaf Wayside Bank, Hatboro Federal Savings, FA, Hometown Community Banks, Iowa Falls State Bank, Journey Federal Credit Union, LAUREL ROAD BANK, Lakestone Bank & Trust, Lamar National Bank, McClain Bank, Oxford Bank, Peoples Bank of Kankakee County, Philo Exchange Bank, Sanford Institution for Savings, Security Bank (NE), Success Bank, Texas Health Credit Union, Transporation Alliance Bank, and Village Bank.
Apple Pay
and Google Pay continue to add more customers in the United States on a monthly basis. It remains to be seen how soon they will be able to offer 100% coverage across the country. Keep in mind that for the full list of banks that support Google Pay, you'll have to check out the
support website
.
Recommended Stories