T-Mobile enters the mobile banking scene, promises "massive money" for its customers
3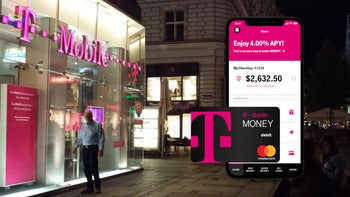 T-Mobile has always tried to separate itself from the other three major carriers with its interesting business decisions. The latest one is the reemergence of its bank services,
SlashGear tells us
. Reemergence because T-Mobile gave it a try
four years ago
, but that lasted only two years before it was shut down.
Now,
T-Mobile Money
is here and its main benefits seem to be the high interest rates on your deposits and no pesky fees. But before we get to that, you're probably wondering, how can a mobile carrier suddenly become a bank? Well, for starters, T-Mobile is partnering with BankMobile, a company specialized in mobile banking apps, to offer customers easy and convenient banking services on their phones. Second, it seems that at least for now, T-Mobile Money won't be offering loans in any form, not even credit cards. Instead, users can get a MasterCard debit card and use whatever money they've deposited in their T-Mobile Money account.
The deposits are where it's at if you're asking T-Mobile. The company is offering up to 4% Annual Percentage Yield (basically the yearly interest that you get for the money you have) on accounts that meet certain conditions, one of which, of course, is for the customer to have a qualifying T-Mobile wireless plan. The unusually high interest rate is for accounts with a balance under $3,000, so don't expect T-Mobile to fund your early retirement.
Another benefit T-Mobile Money is pointing out is that it's getting rid of all the fees that are often causing bank customers frustration. That means no: overdraft fee, account fee, maintenance fee, minimum balance fee, and even ATM fees at Allpoint ATMs. T-Mobile Money is also offering support for Apple Pay, Google Pay and Samsung Pay straight from the get-go, which is great considering its only for smartphone users.
While T-Mobile being your bank might sound weird, if you're a T-Mobile customer there doesn't seem to be any downsides from trying out T-Mobile Money yourself, the app even shows you exactly how much money you've made from interests.
Update:
T-Mobile clarified to us that currently, T-Mobile Money is a pilot with its availability to customers limited for the time being. When the service becomes available to everyone, we can expect to see a proper announcement from the carrier.