Google and Samsung announce the Nexus 10
53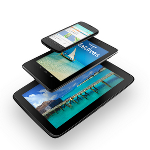 Google's announcements are coming fast and furious right now. We already saw the
LG Nexus 4
, and now we've got the info on the Google Nexus 10 tablet. The Nexus 10 is a beast of a device, with the main feature being a rumor come true: a 2650x1600 display clocking in at 299 pixels per inch.
As for the rest of the specs, the Nexus 10 will be packing Samsung's new 1.7GHz Cortex A15-based Exynos 5 chip, and quad-core Mali-T604 GPU, 2GB of RAM, NFC, a 5MP rear camera, and 1.9MP front camera. The tablet will also be running
Android 4.2
, just like the LG Nexus 4. One downside for some users is that the Nexus 10 will not have an SD card slot, so the storage is what it is.
As far as the design, the tablet is plastic, but according to Matias Duarte, the plastic is "essential" to making the tablet thin and light, as well as allowing for a solid grip on the back so you can hold the tablet one-handed. The Nexus 10 will be 263.8 x 177.8 x 8.9 mm and just 603g, which makes it both thinner and lighter than the iPad 4.
Just like the LG Nexus 4, the Google Nexus 10 will launch on November 13th exclusively in the Google Play Store in U.S., U.K., Australia, France, Germany, Spain, Canada and Japan. It will be $399 for the 16GB model, and $499 for 32GB. The listing is already up in the Play Store, but no pre-orders just yet.