Google brings spooky ringtones and Halloween-themed commands to Nest products
1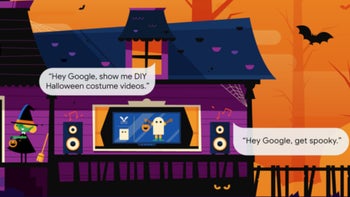 If you have a Nest smart device in your home, you'll be happy to know that Google will be releasing some Halloween-themed content that will make your life funnier. Starting today through early November, all Nest Hello users in the United States can now set up their device to chime into a cackling witch, a ghost, a vampire or a scary monster.
To make your front door even more appealing for guests, Google
teased the upcoming release
of winter ringtones for Nest Hello, which will be available in late November. This is the new stuff coming to Nest Hello users, but there is some other Halloween-themed content that you might not be aware of.
For example, you can say the "
Hey Google, get spooky
" command to one of your Google Nest speakers or displays and your device will start an hour-long playlist of "spooktacular" sounds and music.
Also, if you own a smart display, you can say "
Hey Google, show me Halloween stores nearby
" to see options near you. Once you tap on one, you can say "
Hey Google, call this store
" if you want to order something or ask for info, but keep in mind that this is only available in the US, UK, and Canada.