Google Maps for Mobile now includes Street View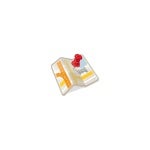 Google has updated its Google Maps application for Mobile with built-in support for Street View and walking directions. The updated application is available as a native download for BlackBerry and in a Java version compatible with many Java-enabled devices. 
A demonstration video is available from Google.
We have confirmed that BlackBerry users can visit 
Google
 to download version 2.
3.1
of the Google Maps application. Apart from the addition of Street View and walking directions, the application's interface has remained the same.
Google Mobile App and previous versions of the GoogleMap application do not presently prompt BlackBerryusers that an update is available.
As a bonus for users of the BlackBerry Bold, version
2.3
.1 comes with an updated application icon with a higher resolution.
Visiting
http://www.google.com/gmm  to download the Google Maps
application should also work for many Java-enabled devices, including most devices running variants of Symbian and Windows Mobile, but iPhone users visiting the page will receive the message "Sorry, Google Maps does not work on your Apple iPhone".

We would agree that the the iPhone's Map application (powered by Google Maps) is superior to the implementation on most other phones (including smartphones) and perhaps waiting for the native iPhone application to be updated is no bad thing.

sources: Official Google Blog, CNET Download Blog and the iPhone Blog