Google Home 2-pack on sale for $199.99 at Costco; individual units now just $109 at Google Store
8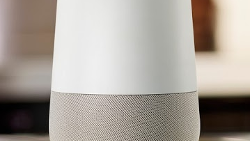 What a difference a year makes. Last year at this time, the smart speaker category belonged to Amazon. After all, it was a product that they created with the Amazon Echo, and the Google Home was still a few weeks from being launched. Now, the market is getting crowded with the Microsoft Invoke and Apple HomePod on the way. In addition, new smart speakers are coming from Sony and Samsung. The device uses a virtual assistant to help users learn about the weather, news, sports scores, stock quotes and more. Smart appliances can be activated with these products and set lists from certain streaming music sites can be accessed.
Google buffed up its smart speaker lineup last week by
adding a lower priced Google Home Mini
, and
the top-of-the-line Google Home Max
. And that leaves the original Google Home in between the Mini and the Max. To clear inventory of the older model, Google has cut the price of the OG Home to $109 from $129. That is a 15.5% drop in price.
Meanwhile, Costco has an even better deal on the Google Home. Now as you know, Costco sells everything in bulk, so its deal on the Google Home requires that you purchase two units for $199.99 That works out to a price of just under $100 for each Smart Speaker, undercutting the cost of the product in the Google Store.
It really comes down to how many Google Home units you need. If you plan on giving some away for the holidays, it might work out better if you buy the 2-pack from Costco. However, because it costs money to become a Costco member, this deal works only if you are already a member or have a free trial membership. The Costco offer expires on October 14th, so you better get going!
source:
GoogleStore
,
Costco
via
AndroidAuthority