Google brings some much-needed improvements to Hangouts Chat
1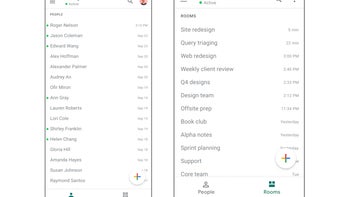 Google is making some important changes to
Hangouts Chat
on both the Android and iOS platforms. The biggest improvement in the latest update lets Hangouts Chat users find people and rooms more easily on the mobile app.
Here is how is Google achieving that without going into too many technicalities. First off, the list of People, Rooms, and Bots is now split into two tabs: People and Rooms. The third list, Bots will now be included in the People tab, which should make it easier to find a single contact.
Furthermore, the latest Hangouts Chat update removes the filter at the top of these tabs to simplify how you navigate the app. Basically, you can now use the magnifying glass at the top of the screen to find people, bots, and rooms, or start a conversation by clicking the + button in the bottom right corner.
All the changes
announced
by Google will be available in Hangouts Chat for iOS starting today and will be rolling out on Android beginning next week. Once they arrive on your phone, they will be enabled by default.