Google to bring "Out of Office" feature to Gmail and Hangouts Chat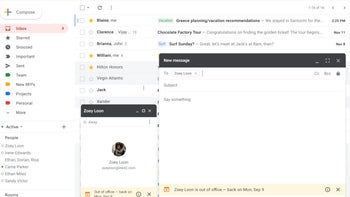 A new feature is coming to
Gmail
and Hangouts Chat over the few weeks, Gmail
announced
today. The so-called OOO (Out of Office) notification will now appear in Gmail and Hangouts Chat when people try to contact you.
Of course, you need to have an Out of Office entry on your calendar for the notice of the status to appear in both apps. The Out of Office Calendar integration was previewed by Google back in April, so it should be no surprise for those who followed the Cloud Next 2019 news.
After the update, whenever you start composing an email to someone who's out of office, Gmail will display a banner about the recipient being out of office and when they'll be back in the email compose window.
On the other hand, in
Hangouts Chat
, users will see a small notification in the chat compose window, which is meant to alert the person you're trying to message is out of office.
The new feature makes it easier for those who send emails to learn that the recipient is out of office before sending that email. Although the rollout of the new feature starts today, it will take up to 15 days for the Out of Office Calendar integration to be available to everyone.