Google Executive Eric Schmidt tells graduates to go offline for a an hour per day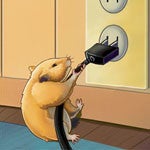 It's graduation time for many, which means big name commencement speeches. This year, Google's own Eric Schmidt gave the commencement address at Boston University. The speech was given in front of 6,700 graduation students as well as more than 20,000 friends and family.
Schmidt took a strong position in saying that he felt it important to maintain a healthy offline balance in life, and that everyone should
"Take one hour a day and turn that thing off. Take your eyes off that screen and look into the eyes of the person you love. Have a conversation, a real conversation."
He even poked a bit at Facebook when he said
"Don't push a button saying 'I like,' actually tell them.
"
Schmidt went on to say how connected we all have been, noting that "
Some of you are probably texting right now, or tweeting this speech, changing your status.
"
While he emphasized the importance of disconnecting an hour a day to live life outside of the online world, he did praise the students for being "
the first fully connected generation the world has ever known. A blessing, not a curse. To connect the world is to free the world.
"
Check out Schmidt's entire commencement address in the video posted by Boston University.
source:
PC Magazine