Goldman Sachs, looking to expand its retail banking presence, purchases a mobile app
1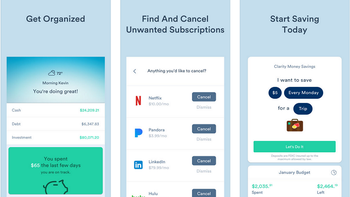 White-shoe investment house Goldman Sachs is looking to expand its retail banking business. The investment house does take in consumer deposits, lends money, and offers most of the same services as the local bank around the corner. The company is well known as a securities power house that makes oodles and oodles of money trading paper. Today, it was announced that Goldman Sachs has purchased Clarity Money, a personal-finance app found in the App Store and the Google Play Store.
Using algorithms and AI, the Clarity Money app is designed to help users get a grip on their finances. It does this by:
Having subscribers cancel unnecessary subscriptions.
Finding the best credit card for a particular individual or family.
Balancing the family budget.
Starting a savings plan.
Obtaining a free VantageScore Credit Score by Experian.
The app's financial backers include Michael Dell's brother Adam, Soros Capital (yes,
that
Soros) and Citigroup's Venture Capital division. Goldman Sachs is paying an eight-figure amount for the app, which is only two-years old and has yet to make a profit. According to the
Wall Street Journal
, Goldman will continue to allow the app to recommend competitors' financial products along with its own.
"Consumers are too often overwhelmed by or don't have a good handle on their finances. We think we can simplify that."-Omer Ismail, chief operating officer, Goldman's Marcus retail banking division
You can install the Clarity Money app for free by clicking on the appropriate link: (
iOS
|
Android
)
source:
WSJ