Gold Samsung Galaxy S8+ leaks in live image
65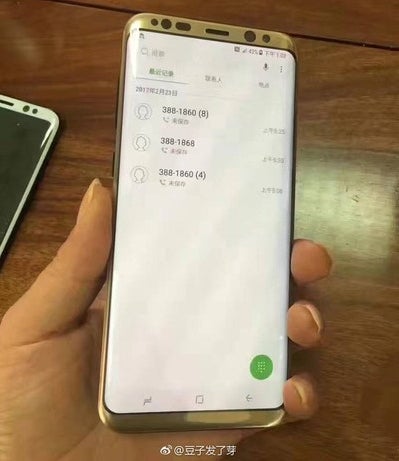 With
Sony
and
LG
having recently furnished us with a couple of high-profile flagships, all eyes are now squarely focused on what Samsung will bring to the table. Over the past couple of weeks since Mobile World Congress, sightings of the so-called Galaxy S8 and S8+ have been plentiful, which makes sense given
the scheduled announcement later this month
. With reports suggesting that Sammy offer as many as seven color options from the get-go, we can now mull over a nice clear shot of what looks to be a gold Galaxy S8+.
Perhaps due in part to
the demise of
the
Note 7
, Samsung's Galaxy S8 line is going all-curved, and
all-large
. The display of the Galaxy S8 looks set to offer a 5.8-inch diameter, while the larger S8+ (Plus) could creep all the way up to 6.2 inches. Because of the near-bezel-less finish and rounded corners, however, the devices
won't be outrageously large compared with their peers
.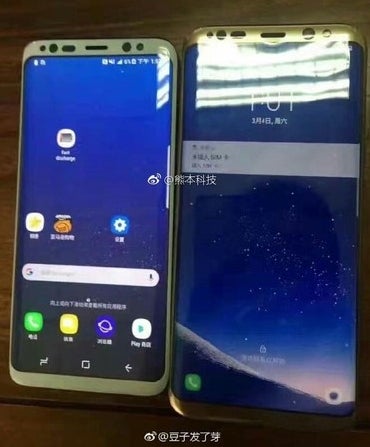 Galaxy S8 (left) vs. Galaxy S8+
The new leak gives us a couple of hands-on glimpses of the more substantial Galaxy S8+ in gold. There's a quick peek at the lock screen, Calls app, and the on-screen nav bar that will pick up the slack left by the absent physical home button. The gold S8+ is also snapped alongside a Galaxy S8, which offers a bit of perspective. For a more detailed look at how the S8 duo will likely measure up against some of the market's other big guns, please do check out
our preliminary size comparison
.
According to Ming-Chi Kuo, the gold version
will also be accompanied by
bright black, matte black, blue, orchid, silver and pink shades. But while he does infer that all seven colors will be ready for the supposed April 21 consumer launch, it's very likely that availability of any given color will vary by market.
Based on what you've seen so far, which color takes your fancy? Let us know in the comments below.