Samsung stops all sales and production of Galaxy Note 7
99+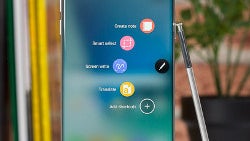 The Galaxy Note 7 is done.
After a global recall
, and most likely a second one that's about to commence, Samsung is now officially ending all sales of the smartphone. In a statement issued today the company says it "has decided to stop sales and interim replacement for the Galaxy Note 7" and, as a consequence, it has halted production of the phone as well.
The South Korean handset maker was very close to successfully completing the global recall of the Galaxy Note 7, but its inability to fix the battery issues puts it in the position to halt production of the smartphone.
As you have already heard, for the benefit of consumer's safety, we stopped sales and exchanges of the Galaxy Note7 and have consequently decided to stop production. We are working closely with partners and regulatory bodies in each country and will take immediate steps to resolve the situation. All Galaxy Note7 owners will be offered the exchange of the Note7 for other Galaxy smartphones with refund of the price difference, or a full refund at the point of purchase. We sincerely apologize for the customers who have trusted and waited for the Galaxy Note7, and for the inconvenience this may cause for all Galaxy Note7 owners.
Since there are still quite a lot of Galaxy Note 7 units in the hands of consumers, it remains to be seen how Samsung will handle the recall of these devices. Earlier today,
the company issued an official statement
warning customers to power down their original AND replacement Galaxy Note 7 phones and stop using them.
According to Samsung, "follow-up measures in accordance with the sale and refund of the suspended and exchange with other products" will be decided as soon as possible.
All carries and partners were told to stop sales and/or exchanges of the Galaxy Note 7, so the only course of action owners of the device should take is to ask for a refund or a different phone.
Samsung has yet to complete its investigation on the latest exploding Galaxy Note 7 replacements, so we still don't know what's causing the issue, though it's probably a battery-related issue.
Samsung may still decide to resume production and sales at some point in the future – the manufacturer hasn't necessarily specified yet if this production halt is permanent or temporary. Overall, it looks like the company needs to take its time and assess the problems it's facing more thoroughly. We can imagine that only then, when it's gathered enough data to really know what the causes of these issues are (and whether or not it can fix them), will it eventually consider whether or not to bring the Note 7 back to market.
Either way, the message is clear: stop using the Galaxy Note 7 if you own one, or do not buy it if you haven't already.