Go "Back to the Future" with a DeLorean iPhone 6 Case
4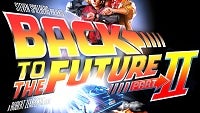 2015 is an important year for Hollywood, for it was the year projected in the hit film
Back to the Future Part II
, released in 1989.
We will no doubt observe several times this year where Universal Pictures and Amblin Entertainment got things right or wrong, particularly when it comes to technology as the year progresses. Right or wrong though, the
Back to the Future
series will always be remembered for its heavily modified DeLorean DMC-12 sports car.
In the meantime, why no celebrate this arbitrary landmark of time-meets-fiction with a rather well-appointed looking DeLorean case for your iPhone 6? It is actually a pretty impressive set-up by Bandai in Japan. Celebrating the flying car that took us out of the first movie and into the second, this iPhone case is, well, bulky.
In exchange for a not-so-pocketable case, it will light up when you get a call, the wheel flips out of the way to adjust volume, and the hood slides open to allow use of the camera though not with the flash.
Of course, with this case, you'll never have to utter those words, "Can you hear me now?" Instead, you'll look just fine yelling, "Hello?! Hello?! McFly?!"
This iPhone case will be available in June, and will cost a hefty $90, check out the source link if you want to pre-order.
source:
Japan Trends
(
pre-order
)