Gingerbread update for Verizon's LG Revolution is being pushed out as we speak
5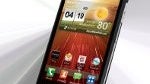 Sure it might have been the least favorable of the initial three 4G LTE smartphone offerings from Verizon Wireless, but in any event, the
LG Revolution
is finally packing its Froyo bags and moving right up to
Android 2.3 Gingerbread
. Naturally, the wait was a lengthy one for handset owners, but it's nonetheless ever so sweet for them.
Bringing up its
software version
to
VS910ZV7
, the update brings forth the entire usual suspect of features commonly associated with the sweet tasting snack. Beyond that, it packs along a few things that enhance both the email and messaging experience. And of course, it's packing some other enhancements and bug fixes to fine tune the overall experience for users. Specifically, they include the following:
Email & Messaging
Email folders will now display in the correct order.
The maximum attachment size is now set correctly, even when the
Exchange service is configured with unlimited size attachments.
Messages can now be stored on the SIM card. View these messages through the Settings menu, "Manage SIM card messages."
Correctly set Out of Office without having to set a start or end time.
The popup message asking to delete accounts when changing the SIM card now displays correctly.
Device Features
The cursor has been reshaped for easier text editing.
List menu force close issue has been resolved.
Issues have been fixed involving proper connectivity through the HDMI cable.
Data now works correctly when toggling in Airplane mode.
If you haven't seen that long awaited notification on your device, you can simply initiate the manual process yourself under the Software Update section in the Android Settings menu.Once that's all taken care of, you can finally sing the joys of being in good company thanks to Gingerbread.
Thanks Albert!
source:
Verizon
(PDF)