Future update for the LG Revolution packs some bug fixes - no Gingerbread yet
1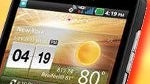 Although it's not rolling out just yet,
LG Revolution
owners out there are going to be treated to a new software update in the very near future – though, it's not certain when it'll be available exactly.
Still, it appears as though it's going to be packing nothing more than some usual set of
bug fixes
that should keep handset owners content for the near term. However, we're certain that they're more concerned about seeing a Gingerbread update of some sort more than anything else at this point – even more when so many other devices are seemingly getting their dose of late.
Specifically, the upcoming update will feature new versions of all of the VCAST media apps that are preloaded, fixes the call notifications when in vibrate mode, enabling auto-correct being turned on by default all the time, album art will be displayed for additional media types, and another fix that prevents the on-screen keyboard from automatically popping up when you reply to a text message.
Of course, there are some other ones too that are in for the ride, but in the meantime, we'll have to play the waiting game.
source:
Verizon
via
Pocketnow