Gifting apps returns to iOS 6 App Store
1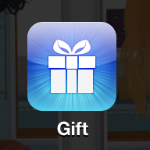 Happy holidays everyone! Of course, this is the season of giving (which obviously means it is also the season of receiving), and with that in mind Apple has brought back a feature that had mysteriously disappeared from iOS 6. You can now once again give apps as gifts from the App Store on your iOS 6 device.
Unfortunately, Apple hasn't made it quite so obvious how to get at the feature. It used to be that the "Gift This App" option was listed underneath the ratings and next to "Tell a Friend" in the app listing. Now, it has been made part of the action sheet menu alongside sharing the app to Twitter or Facebook. So, to get at it, just head to the app listing, then tap the action sheet button in the top right.
Even better, the gifting option has a new feature this time around which lets you choose when the gift is delivered. You can choose to have the gift app delivered any time up to 90 days in the future.