Gameloft contributing to in-flight entertainment on Jetstar's rentable iPads
1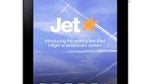 O the joys of air travel… the long lines, airport security, cramped seating, crying children, the rentable iPad tablets featuring hit games from Gameloft… wait what? That's right. If you are planning on traveling on Australian airliner, Jetstar, you will be offered the opportunity to rent an iPad for the duration of the flight.
Gameloft
is joining in on the action by offering
12 titles
on those iPads. At program launch, Gameloft will offer 5 titles, which are Real Football, Shrek Kart, Avatar, UNO™, and N.O.V.A.: Near Orbit Vanguard Alliance. In the first quarter of 2012 Gameloft will add GT Racing: Motor Academy, Brain Challenge, Blokus, Ironman 2, Let's Golf 2, The Settlers, and Asphalt 5 to its repertoire.
Michael Guillemot, President and Founder of Gameloft, said, "
As Jetstar uses some of the most innovative technology available to enhance its customers in-flight experience, we look forward to partnering with them to offer one of the most immersive gaming experience to ever appear onboard an aircraft.
"
The new in-flight entertainment program will only be available on
select flights that are over 2 hours
long. An iPad rental on one of these flights will run between
$10 and $15 in Australian Dollars
.
source:
Engadget