Galaxy S9 and S9+ preorders launch, and the best deal isn't at Best Buy
If you are an AT&T subscriber, you might have noticed already that your carrier doesn't offer
Galaxy S9
incentives outright, though its prices on Samsung's newest flagships are a hair lower than what you would shell out on Verizon, for instance, and still way higher than T-Mobile's $360 Galaxy S7 trade-in offer for a $720 Galaxy S9. What do?
gives $100 if you preorder today
, plus Samsung's blanket "up to $350" rebate for an eligible trade-in. The good part is that you can haggle with the rep to apply the discounts as a down payment on your phone immediately, and pay the rest on installments over 24 or 30 months on AT&T, which would essentially mean something like $13 a month if you choose to pay over a 30-month period, and trade-in, say, your oldie
Galaxy S7
for an S9.
This may sound like the best deal on Samsung's latest and greatest so far, but wait, there is an even better one. Sam's Club, the wholesaler, will give you a $150 gift card if you buy the
Galaxy S9
or S9+ on AT&T (but also Sprint or U.S. Cellular). The reason that the offer is so good, is that it stacks up on top of the "up to $350 trade-in for eligible phones," too, beating Best Buy's today-only deal with fifty bucks. Moreover, you get your $40 activation fee waived if you go the Sam's Club route between March 16-18, when the phones launch.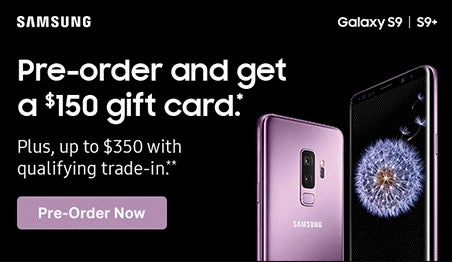 The fine print? Well, you have to purchase the Galaxy S9 and S9+ on installments, and the $150 gift card can't be used as a down payment on the phones, or to pay your Sam's Club membership fee. The offer is also not available for Business Accounts, as usual, and it can't be had online, you'd actually have to go to a store to activate it.
Still, after jumping through all the hoops, you can get the dual-camera
S9+
, which retails at $915 on AT&T, for $16/month, when you discount a
Galaxy S7
trade in good condition, and the $150 gift card, paying the remainder off in 30 months, and having your activation fee waiver. Not bad at all, and beats the
T-Mobile trade-in offer
by a hair, so here are all the eligible devices for a trade-in at Sam's Club:
Samsung
Galaxy S8, S8+, S8 Active - $350 off;
Galaxy S7, S7 edge, S7 Active - $300 off;
Galaxy S6, S6
edge+
, S6 edge, S6 Active - $150;
Galaxy Note 5 - $150;
Galaxy S7, S7 edge, S7 Active with cracked screen - up to $100.
Apple

iPhone X - $350 off;
iPhone 8, iPhone 8 Plus - $350 off;
iPhone 7, iPhojne 7 Plus - $300 off;
iPhone 6s, 6s Plus, 6, 6 Plus - $150 off.
LG

V30 - $300 off;
V20 - $150 off;
LG G6 - $150 off.
Google

Pixel 2, Pixel 2 XL - $300 off;
Pixel, Pixel XL - $150 off.