Galaxy S5 Mini to feature 4.5-inch 720p display, 1.5GB RAM?
31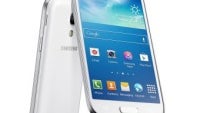 Renowned Samsung fan-site SamMobileclaims it has been handed the upcoming Galaxy S5 Mini smartphone'sleaked specs. The alleged Samsung SM-G800's purported technicalrecipe sounds decent - 4.5-inch 720p SAMOLED display, quad-coreSnapdragon 400 CPU, a rare 1.5GB RAM, 16GB storage memory, 8MP rearcamera, 2MP front cam, and a 2100mAh battery.
In addition, the phone will run Android4.4 KitKat and feature the Galaxy S5's IP67 certification, whichmeans the device is completely protected against dust and good forstaying at least 30 minutes under 1 meter of water. It seems theGalaxy S5's landmark heart-rate and fingerprint sensors aren'tcoming to the party, but maybe they'll become ubiquitous mid-range offerings some day. Or, maybe not.
Anyway, we'd like to point out that, sofar, the only smartphones with the unusual 1.5GB of RAM by Samsung have been the GalaxyMega 5.8 and Galaxy Grand 2 phablets, along with last year's Galaxy S4 Mini. Interestingly, the Grand 2's specs are an exact match with what SamMobile asserts to, with theexception of the display diagonal. So either we're being fooled, orSamsung is about to release a Galaxy Grand 2 Mini in M-sized GalaxyS5 clothing.
Regardless, the Galaxy S5 Mini's launchis expected to happen in June, an year after the Galaxy S4 Mini cameto life. By then, we will surely know more about it.
source: SamMobile