Friday's explosion at the Foxconn iPad 2 plant might affect Apple's tablet production, after all
7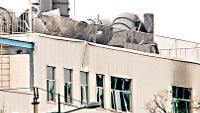 The explosion Friday at an
iPad 2
Foxconn plant in Chengdu City, Western China, killed 3 people and injured 15 more. Initial investigation pinned the culprit to
accumulation of highly-flammable dust
in the polishing shop dust collector. We'd just add that the plant seems to have been built in around 70 days total, a breakneck pace for even Chinese manufacturing capacity standards.
Local government has provided all sorts of incentives for the $2 billion factory, and now is arguably taken over from Foxconn to deal with the tragedy aftermath. There is a roadblock third of a mile around the factory, reporters' cameras are being confiscated, and the explosion doesn't make the news at the local newspapers.
Investment bank Morgan Stanley issues a note this morning that while the plant is responsible for less than 30% of the iPad 2 total production capacity, the steady supply of Apple's second generation tablet might be affected, after all, pending the investigation at the factory's A5 building unit, where the explosion occurred. Apple already issued a statement expressing condolensces at the victims' families, and saying that the investigation what lead to the blast in its assemblyman Foxconn's plant, is in full swing.
source:
FocusTaiwan
&
M.I.C.Gadget
Recommended Stories