Friday Android game and app deals: get Modern Combat 4 for $1
10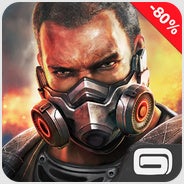 What better way to start off the weekend than to get some of the best games and apps for a fraction of their price? One of the top developers on Android, Gameloft, has slashed prices on some of its top games like Modern Combat 4 and Order & Chaos to just a dollar, and we have some other great deals on apps and games that you should not miss.
These are the lowest prices we have seen on Gameloft's collection since around Black Friday, and since this is a limited-time deal, you'd better hurry up to get it while it lasts.
Most of this week's selection is about game deals, since there were just too many of them, but apps like the discounted Vignette and TuneIn Radio Pro are definitely worth your attention, and you'd find the links to get them right below.
Out of all, we are already downloading Modern Combat 4, and what will you get out of these great deals?
Friday game and app deals, Gameloft huge sales