Foxconn revenues increase marginally in Q2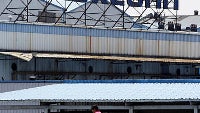 With contract manufacturer Foxconn responsible for the assembly of a large number of the mobile devices that people are toting around globally, the company's quarterly financial reports are like a window to the industry. With talk about a slowdown in smartphone shipments, this seems reflected by the meager .6% year-over-year increase in Foxconn's second quarter revenues to
$30 billion
. But that is actually a huge improvement from the 19% drop the company suffered in the first quarter.
Besides an industry-wide slowdown, Foxconn lost some business from Apple last September to rival Pegatron, and
the rumored Apple iPhone Lite is supposedly going to be manufactured by Pegatron
as well. The Q2 revenue figure surpassed analysts' estimates. Arthur Liao, an analyst with Fubon Financial Holding, called the revenue figure a surprise, citing weak sales of the Apple iPhone. Liao said that large-screen television assembly had to be driving the company since top line growth from Apple's iconic smartphone won't kick in until a new model is released sometime later this quarter. The analyst has a 'reduce' rating on Foxconn shares.
"It's definitely a surprise with only some areas like TVs being the bright spots because iPhone is still weak. The question is whether it can be sustained because new Apple devices won't come until the end of the third quarter."
-Arthur Liao, analyst, Fubon Financial Holding
The company will report its net income for the period next month. Terry Gou, billionaire owner of Foxconn, has promised stockholders that the company will turn a profit this year despite a 9.9% drop in revenue over the first half of the year.
source:
Bloomberg