Flash Valet app aims to improve your valet parking experience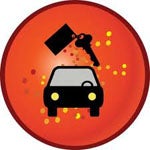 Last week we reported on
Taxi Magic
, an app that brings hailing and paying for a taxi into the digital age. The app improved on a process that's been around for a long time, and now a new app and service called Flash Valet is in the works, aiming to do the same for the valet parking process.
The app is quite simple, when you drop off your car at one of the participating valet stands, the stand gives you a card with the instructions on it. You can send a text message to the number on the card, or use the app to request your car when you're ready to pick it up. This sends a secure notification to the valet, who will retrieve your car, then deliver an electronic confirmation to the owner that the car is waiting for them.
The app and service also has features tailored to the valet company as well. The service will also support vehicle key tracking, a photo system to document existing vehicle damage, and cash control features. The solution is also said to allow the valet to take mobile payments, including tip, from the parking customer via PayPal or credit card.
While the system seems to be in its early testing phases, there are no locations yet listed as using it on their
location finder website
... but it'll be interesting to follow and see if it catches on.
Flash Valet posted a video to show prospective customers (presumably valet companies and their customers alike) how the service works:
source:
GIGAOM