First generation Apple Watch units with a bloated battery now have three-years of warranty protection
23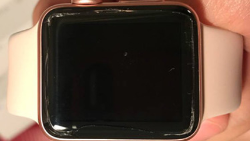 A leaked internal document not meant for the eyes of the general public, reveals that Apple is adding two-free years to the limited warranty on any original generation Apple Watch with a swollen or expanded battery. This means that owners of a first gen Apple smartwatch with a swollen juicer, now have warranty protection for a total of three-years from the date of purchase. The wearable was originally launched on April 24th 2015, which means that the device turned two-years old last week.
Apple products with a swollen cell are usually given an extended two-year limited warranty, one year beyond the regular one-year warranty length. According to the internal document, Apple is adding a second free-year to owners of the first-gen Apple Watch with a bloated battery.
While OG Apple Watch users experiencing the battery swelling have posted about it on the Apple support forum and on Reddit, this is an issue that hasn't received much press prior to today's leak. If you own a first-gen Apple Watch, just know that Apple will honor the limited warranty if you bring it in for repair within three-years from the date that you purchased the device.
source:
9to5Mac