First clone of Apple's Smart Cover has landed
5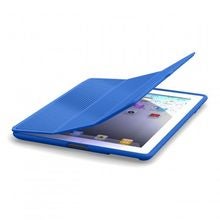 Apple's
Smart Cover
for the iPad 2 was announced by Steve Jobs as the must-have accessory for your new tablet. Well, it didn't take too long for third party manufacturers to grasp the idea and tweak it to create their own, potentially improved, versions of the Smart Cover.
First to announce an alternative to the Smart Cover was Speck, a company, which has about ten years of experience in crafting stylish cases and pouches for your iPods, BlackBerrys, and a list of other electronic gadgets. PixelSkin HD, as the cover is called by its manufacturer, expands on Apple's design and makes embracing the entire iPad 2 from front to back possible while retaining the neat functionality, which the Smart Cover pioneered, to fold and turn into a stand. Judging by the pictures below, the PixelSkin HD doesn't look like a cheap ripoff either. Priced at $49.95, it appears to be well built and will most likely do a great job at protecting your iPad 2 from dents and scratches.
It is mentioned that the PixelSkin HD attaches to the front of the iPad 2 by using micro-suction, which eliminates the need for any magnet trickery as
seen in the Smart Cover
. Another thing that is missing is a release date for Speck's cover, but you can subscribe for an e-mail notification when the PixelSkin HD becomes available.
source:
Speck
via
Gizmodo