Curious how the Smart Cover for the iPad 2 works? See what is inside!
10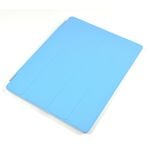 The
Smart Cover
from Apple – it protects your iPad 2 when not in use and conveniently folds into a stand for the times when you need one. When introducing the iPad 2, Steve Jobs made it clear that Apple's tablet and the Smart Cover have been made for each other, but have you ever wondered how they work together so seamlessly? Well, somebody has already spoiled the mystery after tearing a Smart Cover apart so that you don't have to guess anymore.
There doesn't seem to be anything high-tech behind the Smart Cover really, just clever use of some pretty strong
magnets
. The iPad 2 has also received a magnetic treatment – two arrays of magnets are located along the opposing taller sides of the tablet, which is why the Smart Cover snaps on top of the screen with ease. Taking a closer look at the magnetic arrays in both the tablet and its accessory shows that adjacent magnets have opposite polarities, which ensures that the Smart Cover always sits in the same orientation. Additionally, when the Smart Cover is protecting your screen it also activates a magnetic field sensor within your iPad 2, which in turn switches the display off.
In a nutshell, that is how the Smart Cover works – a simple and elegant use of properly aligned magnets, and since a picture says a thousand words, feel free to check out the photos below if you have not satisfied your curiosity completely. The magnetic viewing film reveals clearly the location of every magnet.
source:
iFixit