Famous indie puzzler Thomas Was Alone now available on Android, iPhone, iPod Touch
1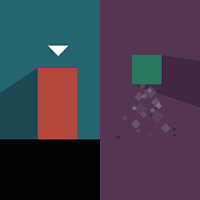 Thomas Was Alone is a puzzle-platformer that presents itself in a minimalistic graphic style, and tells its story through the narration of famous voice actor Danny Wallace (hint: he is Shawn Hastings in Assassin's Creed), accompanied by a brilliant soundtrack, courtesy of David Housden. The point of the game is to beat its 100 puzzles by controlling different "characters". Characters here is a strong word, since your protagonists are rectangles, each bearing a different shape, color, and ability. However, you will find yourself hard-pressed to not think of them as having personalities, which is sort of the point of the game... or at least part of it.
Released for PC in 2012, it gathered a string of very favorable reviews and quickly became famous in the indie gaming scene. This prompted the game's release on a couple of other gaming platforms and it also made its debut on the mobile scene by landing on the iPad at the start of 2014.
All mobile gaming enthusiasts who can't wait to get their fingertips on the 100 puzzling levels now have a chance to do so, since the game is now avalable for iPhone, iPod Touch, as well as Android 4.0 and up. To celebrate the new release, the game has been discounted by 33% and players can now get it for $3.99. The offer only lasts until the end of the weekend, when Thomas Was Alone will go back to the price of $5.99.